GROMPOKER UKRAINE POKER OPEN & ISRAEL POKER CHAMPIONSHIP
August 5-15, Ukraine, Odessa!
Guarantee ₴ 10.000.000. Casino "First".
The first joint Ukrainian-Israeli series.
SUMMER. SEA. POKER. PARTIES.
Hello friends!
This is not just a news announcement about the future poker series —- this is the upcoming big poker in Ukraine. We are glad to invite you to the first ever Ukrainian-Israeli stage of UKRAINE POKER OPEN and the most famous Israeli poker series ISRAEL POKER CHAMPIONSHIP TOUR. The future large-scale stage will be held in Odessa from 5 to 15 August, the guaranteed prize pool of the series is ₴ 10.000.000 ($ 370.000).




We have a lot of positive emotions connected with Odessa, the largest stages of Pokerstyle Events took place exactly here, and the very first stage took place back in 2010. It was a large-scale and record-breaking series by all criteria. The most famous players were playing at the tournament tables, with Abdul Mamin becoming the winner of the main tournament, adding $ 95,200 to his bankroll.




A distinctive feature of the series in Ukraine is the unique atmosphere of poker, friendship, entertainment in a wonderful city. Now is the time to return this good tradition, and we have attracted our trusted foreign partners, so at the beginning of August we are bringing a real big poker holiday to Odessa. We will do our best, as well as bringing our many years of experience of the previous series, knowledge and connections, to turn the future series in Odessa into a real poker festival with the best tournaments and services.



WHAT'S INTERESTNIG?

➤ The first international Ukrainian-Israeli stage of the UPO & IPC Tour in Odessa
➤ Series guarantee - ₴ 10.000.000, five tournaments with a million people at once, each tournament with its own guarantee
➤ Updated schedule. Two Main tournaments at once - from the Ukraine Poker Open and the Israel Poker Championship Tour
➤ Online satellites at Grompoker are available for Russians. No problems with deposits
➤ Excellent tournaments with democratic buy-ins and solid prize money
➤ Immediately 10 out of 17 tournaments - in the format of progressive knockouts
➤ TV Poker with open cards, live TV broadcasts of key tournaments
➤ Comfortable and the best venue for the series, great lineups and many foreign players
➤ Excellent structures in tournaments. Main Event Starting Stack - 100,000 Chips
➤ Lots of tickets to key tournaments in online satellites at Grompoker
➤ Branded cool parties in the club "Ibiza" and the best entertainment events




TOURNAMENT SCHEDULE








WHY SHOULD YOU PARTICIPATE?





➥ TWO MAJOR EVENTS




Yes friends. Your eyes do not lie to you, there are two main tournaments lurking in the schedule. The first main - UPO Main Event with a buy-in of ₴ 7700 and a guarantee of ₴ 1.300.000 will be held from 7 to 10 August. The second main event - IPC Main Event - will take place from 10 to 15 August. The guarantee here is ₴ 1,800,000, and the buy-in is only ₴ 3300. Two of the largest tournaments in the series, where the field of players promise to be incredibly bright and colorful. This means that we will have a lot of action and emotions at the tables. The champions of both Maines will be determined in a live TV broadcast. Read more about each tournament below.





➥ TV BROADCAST




TV broadcasts on the previous UPO episodes impressed everyone, even the most indifferent ones. Visual and technical components, everything was at a good level. We are not going to break traditions, therefore, at least THREE tournaments from the schedule will be accompanied by a live broadcast with comments and open cards — UPO Main Event, IPC Main Event and Ukraine Masters TV Event. Let your friends and acquaintances see your triumph live. Winning, for example, the cup of the main Event and becoming the champion of the UPO under the gun of the cameras is not a bad idea, won't you agree?





➥ LOTS OF FOREIGN PLAYERS




Do not forget that the future stage in Odessa is not an ordinary series. This is an international Ukrainian-Israeli poker festival, which will be attended by a large number of foreign players. In total, we expect more than 100 players from Israel, Cyprus, Lebanon, Turkey and European countries. PokerStyle Events is inviting its foreign guests and many of them have already booked hotels and flights.




Especially for Russians, the casino makes an invitation with which you can easily come to Odessa and also leave without any problems. Don't miss this great opportunity to battle against the interesting field of participants.





➥ LARGE NUMBER OF KNOCKOUT TOURNAMENTS




10 out of 17 tournaments, including the opening tournament, will be held in the Progressive knockout format, each of which is provided with its own guarantee. In recent years, the "progressive" format offline has won the hearts of poker players all over the world and has become really popular. We decided to add a good dose of action and implemented this format in 2/3 of the tournaments from the schedule.





➥ ATMOSPHERE DURING THE SERIES




Many people know that there is always a warm and friendly atmosphere at the Pokerstyle Events series. The coolest entertainment awaits you: special parties in the best nightclubs of Odessa, karaoke battle, intellectual and sports games. Warm August weather, an even warmer Black Sea and a lot of quality poker, our guests come not only for the best poker tournaments, but also for a good rest and a break, and this will be guaranteed.





➥ LOTS OF TICKETS IN ONLINE SATELLITES




Our partners from Grompoker will play out a decent number of tickets to the most important tournaments of the series. Grompoker is actively growing and offers inexpensive qualifications for two headliner tournaments - Grompoker Progressive Stack + Cup and UPO Main Event. It is much easier to win a ticket to a tournament at Grompoker, because many satellites are held with expected overlays, which means that the players' chances are even higher. Satellites will start on June 28, you can qualify for the Ukrainian-Israeli stage in Odessa from freerolls without spending a penny of your funds.






ABOUT EACH TOURNAMENT IN MORE DETAILS





UPO MAIN EVENT - ₴ 7700.

Guarantee ₴ 1.300.000.




Stack 100,000, levels of 12/20/40 / and 45 minutes. Classic Main format. Participants receive 100,000 chips at the start and play a certain number of levels on each of the starting entrance days. All participants who pass from the entrance Day 1A, 1B and 1C Turbo enter the combined Day 2, in which there will be two more levels of late registration. Online satellites at Grompoker start with freerolls and run by Day 1A with an entry fee of ₴ 7700.





IPC MAIN EVENT ₴ 3300 / ₴ 13700.

Guarantee ₴ 1.800.000.




Stacks are 20,000 / 100,000, levels are 15/20/40/45 and 50 minutes. All the same Main format available, but now in 2 stages. In Stage A and Stage B for ₴ 3300, participants receive 20,000 chips at they start and play up to 20% of the remaining ones, going directly to Day 1A with the stacks collected. All interested participants who did not pass or did not participate in the stages with a buy-in of ₴ 3300 enter Day 1A directly for ₴ 13700, receiving a starting stack of 100,000 chips. Thanks to this format, more new players can take part in the main event of the IPC Tour.





GROMPOKER PROGRESSIVE STACK + CUP ₴ 2700 + ₴ 800.

Guarantee ₴ 1.100.000.


A large-scale three-day headliner tournament with a democratic buy-in and a solid prize fund. It is this event that will open the Odessa stage of the UPO & IPC Tour on August 5. Four entry days with levels from 15 to 20 minutes, stacks (attention!) are summed up. In which of the entrance days to participate, in one, several or even in all - you decide. Remember that in Day 2 combined, you will have a stack made by adding the stacks you filled in on entry days 1A, 1B, 1C, and 1D on the final day of 30 minute levels. The tournament can also be qualified through many of online satellites at Grompoker, the winners of which will receive tickets to Day 1A




UKRAINE MASTERS TV EVENT - ₴ 5750 / ₴ 24500.

Guarantee ₴ 1.000.000.




Unofficial High Roller Tournament. This event will be held in a convenient format, thanks to which everyone can take part in it. At the starting stage, the buy-in will be only ₴ 5750, the participants receive a stack of 20,000 chips and play up to 20% of the number of entries, going directly to Day 1 with the collected stacks. Already in Day 1 and Day 2 you can enter for ₴ 24,500 and get yourself 100,000 chips. On the final day, there will be 2 more late registration levels, at the end of which the live TV play will continue until the winner is determined.





ISRAEL PROGRESSIVE SUPERKNOCKOUT EVENT - ₴ 5000 + ₴ 5000.

Guarantee ₴ 1.000.000.




One day tournament with great knockout rewards and an impressive prize pool of ₴1,000,000. Another tournament with a guarantee of over one million in Odessa tournament schedule. This event is just the case when, without getting into the prize zone, you can still leave with good prize money. Starting stack of 25,000 and levels of 25 and 30 minutes.





PROGRESSIVE SUPERKNOCKOUT EVENT - ₴ 2300 + ₴ 1600.

Guarantee ₴ 300,000.




A one-day tournament with great knockout rewards and an impressive prize pool. The case when not getting into the prize zone, you can still leave with good prize money. Starting stack of 25,000 chips and levels of 25 minutes.





UNDERPRESSURE DEEPSTACK EVENT - ₴ 9600.

Guarantee ₴ 600,000.




One of the most popular tournaments for people who are most immune to "external stimuli" will be held in the classic format and IronMan, without any breaks until the final table. And finally, the most important "trick" - the final table will be held in a special, maximally "tense" place. If you are not ready to play under the pressure, then it is better to refrain from participating in this event.





DEEPSTACK PROGRESSIVE KNOCKOUT EVENT - ₴ 2000 + ₴ 800.

Guarantee ₴ 200,000.




Stack 30,000, levels 20 minutes each. This event is an improved version of the classic knockout tournament, but with deep stacks.





MONSTER EVENT - ₴ 2800 + ₴ 800.

Guarantee ₴ 250.000.




Stack 50,000, levels 20 minutes each. This tournament has been an integral part of the PokerStyle Events schedule for several seasons in a row.


Monster Event is an "improved" version of the classic Turbo Deepstack format with more than double the starting stack, perfect for those who appreciate and enjoy every minute of their time at the table. This time it will pass with progressive knockouts.




7-MAX PROGRESSIVE KNOCKOUT EVENT - ₴ 3900 + ₴ 1600.

Guarantee ₴ 400,000.




Stack 20,000, levels of 25 minutes each. Excellent evening tournament in progressive knockout format with constantly growing bounties for knocking out.





CHINEESE POKER CHAMPIONSHIP (OFC PROGRESSIVE 3-MAX) - ₴ 3900.

Guarantee ₴ 100.000




Chinese Poker Tournament. Many players asked us to add this tournament to the schedule, we went to a meeting and introduced your favorite "pineapple" into the tournament grid. Everything for exotic lovers, and for even more action, this tournament will be held in a progressive knockout format.





KNOCKOUT AND CLASSIC OMAHA TOURNAMENTS.




The action is at the maximum level, because these are Omaha progressive knockout tournaments. There will be two such tournaments with buy-ins of ₴ 2500 + 1000 and ₴ 3400 + 1600, guarantees ₴ 150,000 and ₴ 200,000, respectively. There will also be a non-knockout Omaha tournament. The four-card championship was added to the schedule at the request of the Israeli players and will be held with a buy-in of ₴ 5000 and a guarantee of ₴ 200,000, so there will be 3 Omaha tournaments at once per series.





MINI MAIN PROGRESSIVE KNOCKOUT EVENT - ₴ 3200 + ₴ 800.

Guarantee ₴ 250.000.




Tournament closing the Ukrainian-Israeli stage. A classic knockout tournament, of course, in a progressive format with a smooth structure, reminiscent of the structure of the main event. The last day of the series, a relaxed and pleasant environment, and a fight for the remaining champion trophy.






LOCATION




The upcoming Ukrainian-Israeli series will take place in the only one legalized casino in Odessa — "First". Spacious game room, good kitchen and bar, it's the best and most comfortable place for a large-scale poker series. And, of course, Pokerstyle Events management.




Address: Gagarinskoe plateau, 5B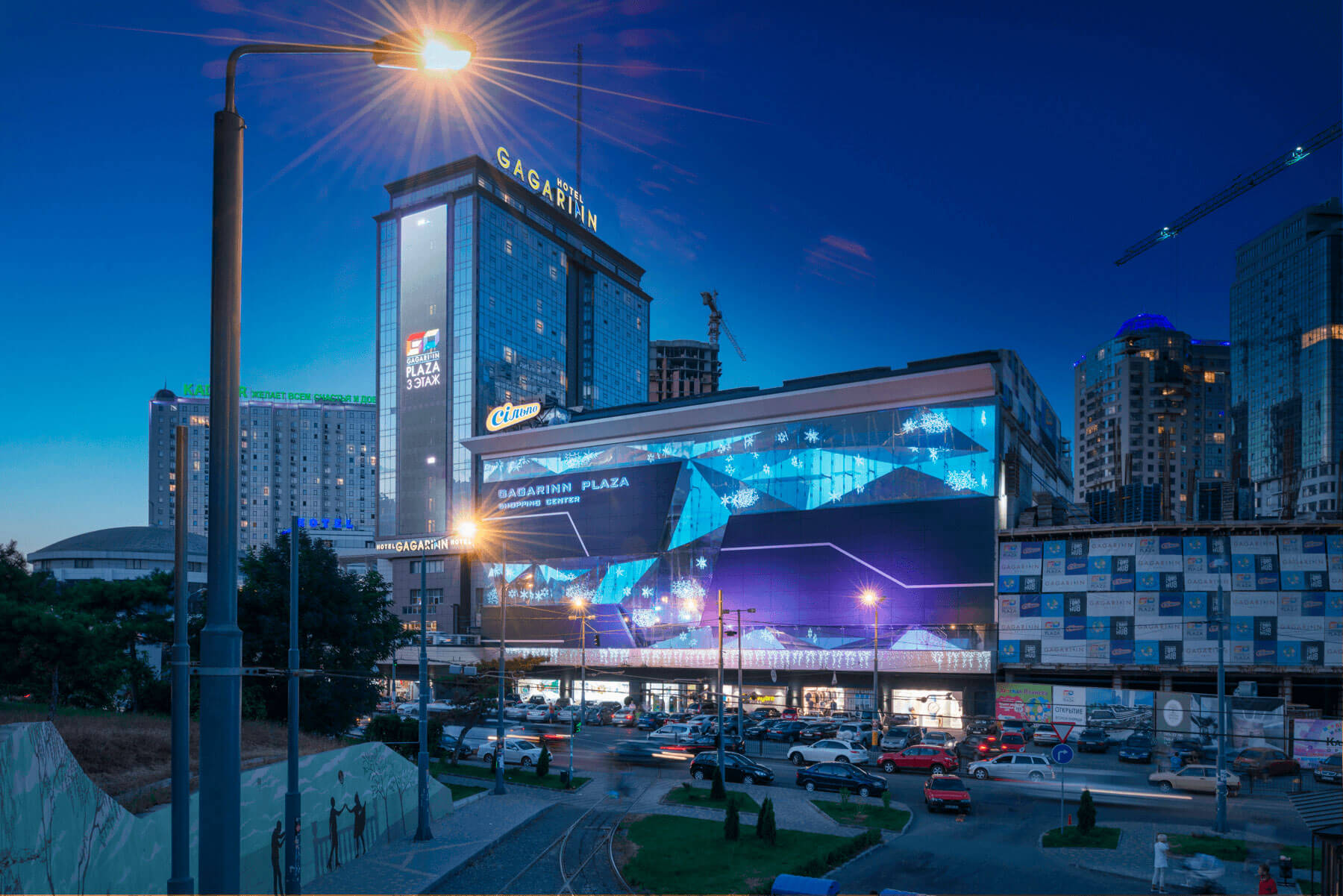 ACCOMMODATION
Gagarinn Hotel is a wonderful hotel located in the elite district of Odessa, the heart of Arcadia and in close proximity to beaches, summer clubs, fashionable restaurants and the main attractions of the city. By the way, the casino "First" is located in the same building — the venue for the future series. Just 2 minutes and you are already in the epicenter of poker battles.
Thus, a standard double room in the Gagarin Hotel, at a special discount for guests of the Odessa series, will cost only ₴ 1600 / night. One of these days, and all the details on accommodation discount in Odessa will appear here. Don't miss the opportunity to be one of the first to book an apartment with a decent discount.
Important to remember! Due to the many foreign players who will be booking hotel rooms very soon, most likely there will be no vacant rooms at the start of the series. Dear players and guests of the series, please make your hotel reservation in advance.
HOW IT WAS THE LAST TIME




Come to Odessa from 5 to 15 August to play high-quality and atmospheric poker, as well as having relax and a great time in the southern capital of Ukraine.





*It is important for everyone to know!




- You must have an identity document and the fact that you are 21 years old.

- The payment of prize money and the registration in tournaments is possible only upon presentation of a passport.

- The official language of the series is Ukrainian / Russian.

- Tickets won again in online satellites can be used as tournament money for the series.

Tournaments buy-ins are indicated in UAH (in brackets the approximate buy-in cost in $)



UPO in:
FACEBOOK - https://www.facebook.com/ukrainepo
TELEGRAM - https://t.me/joinchat/AAAAAFcs-NAcPH3aoTGZ5A
INSTAGRAM - https://instagram.com/ukrainepo

+38 095 789 26 96


Viber / Whatsa'pp / Telegram